So you're interested in writing. Cool! On the right are the top twelve things that helped me become a better writer. (I aimed for ten, but hey, twelve is a nice number, too.) Some of these things I pursued when I was in high school; some I did when I was an adult. You may not agree with all of them, which is fine. I'll just sneak in a lucky thirteenth piece of advice: part of becoming a writer is finding systems that work for you.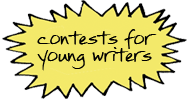 Scholastic Art and Writing Awards.
Baker's Plays of Boston High School Playwriting Contest (I won this one!)
Young Playwrights Inc. National Playwriting Competition
Other legitimate contests for young writers from About.com, courtesy of Ginny Wiehardt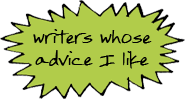 More coming soon!
(scroll to keep reading)


1. Don't feel bad if you don't do well on creative writing assignments. You may still be a writer.
As a teacher, I know: creative writing assignments usually come with requirements. They can be useful for some students, but they can also squash good ideas. Then there's the terrible feeling of getting a bad grade for getting so carried away with one part of the assignment that you forget about the rest. Gah! So frustrating!
However, none of this means you're not a good writer. It just means you'll need to write on your own to come up with pieces you like.
2. Sometimes, however, assignments and structure make it easier to write.
When I was in middle school, I was horrible at coming up with ideas for stories. Pretty much the only good thing I wrote in all of eighth grade was a story for our King Arthur unit about a knight named Sir Pickens de la Nez. (Get it? Heh.) It was easy and fun because I didn't have to think too much about the setting or characters; I just got to make it like a knight's tale. Shakespeare borrowed plots and genres from other writers. It may be good for your writing, too.
Here are some links to poems that I had my students imitate when I taught English. If you're in a creative mood, substitute your own nouns and verbs for the ones in these poems. You might also try writing sequel chapters to books you enjoy. It will give you a chance to borrow the character's voice, and isn't that why we love certain books—the chance to live in the voices we love?
3. Read
Ah, reading. First, it's fun, but it's also an important tool for a writer. Reading can give you ideas to try and introduce you to new ways of telling stories. It can expand your world beyond your neighborhood and help you feel for people you may not think you like. In other words, it can turn you into a more interesting, interested and understanding person, and those are all good qualities for writers.
4. Read like a writer
What does that mean? Pay attention to your reactions and read to solve your writing problems. Can't write description? Find compelling description and analyze why it grabs you. Can't write a good first chapter? See how writers with similar plots begin chapter one. Or, if you don't like a book, study it to figure out why. Is it just that you don't like the main character, or that the author didn't do enough to help you connect? And hm, what could have made you like the character more? Once you find answers, you can use those techniques in your own writing. Books offer more than entertainment. They offer solutions.
5. Talk and read about what you read
Join a book club, read books with a friend, or check out the book-blogging community. All of these will force you to describe what you like and dislike in a book, and just like in #7 below, knowing your taste is the first step in writing things you like.
6. Write like a writer
Create a schedule and stick to it. This was a hard one for me, but my writing only improved when I showed up regularly at my computer, no matter what was going on on in my life. If I didn't know what to write next, I doodled and brainstormed and reread my work until I did (see #9). And what's that statistic—that we have to practice something for 10,000 hours before we become better at it? That the average novelist writes for twelve years before he or she publishes? Doesn't that make you want to rack up the writing hours right now?
7. Exchange your work with other writers
Join a critique group, in person or online, exchange work with a friend who writes, or, if you're in school, join the board of a literary magazine or newspaper. Knowing you have a deadline may make you more productive. Knowing you have an audience may nudge you to address what makes you cringe. Getting feedback can be both encouraging and instructive, and additionally, you'll get practice identifying what works in others' writing and what doesn't. It gives you the same benefits as Reading Like a Writer. Nine times out of ten, I go home from my critique group and realize something along the lines of, "Hortense's piece dragged because it starts earlier than it needs to, and mine does, too. Let's fix that, shall we?"
A note of caution: taking criticism can be difficult, and everyone is good at giving critiques. They may praise too much, nit-pick, or just not know how to help you. Still, give it a try. If you want to write professionally, you'll need experience dealing with feedback.
8. Accept that your first draft may be poop. (The second draft may not be so great, either.)
You know what Shakespeare said: it's better to have written poop than never to haveÉum, yeah, anyway. Many writers hate their early drafts. I wouldn't say I'm the hugeest fan of mine. But once you have a first draft, you can revise. (See #10)
9. If you're stuck, reread your work and ask yourself questions
Most people seem to think of writer's block as running out of gas, but for me, it's turning up a dead-end street and expecting to get to my destination. Asking myself these questions usually helps get me back to the road:
What else do I need to know about these characters to make the scene work?

Have I done enough to drive my character up a tree and throw rocks at her?

Is there conflict on every page?

Is this scene boring because I already have another one like it?

Did I forget to make the tension from the previous scene spill into this one?

Is my character really motivated to do what I just had her do, or did she do it because I, the writer, wanted to drive the plot in that direction?
I'll bet you a Lake Champlain caramel chocolate bar that I'll ask myself these questions at least three times today.
10. Add "outliner' and "reviser' to the job description of "writer'
I used to think that the writers were evenly split between "I heart outlines" and "let it fly." Then I started meeting published authors, and almost all said that using an outline was instrumental in writing publishable work. It was true for me. Outlining doesn't mean I have to plan every event in my story before I write it. Sometimes when I get a good idea or fall in love with a character, I just want to live in that world. Eventually, though, if I don't plan out what the character wants and how she's going to get it, the story turns into a flabby mess.
Writing also means revising—not just changing words and sentences, but examining your entire story. Tim Wynne-Jones, one of my MFA advisors and an incredibly smart person, has a piece on his author website called Eleven Things You Need to Know. Applying them to your work is a great way to start the revision process.
11. Enter contests for fun and profit
As I said earlier, deadlines can be motivating, and that's what contests provide. I also think there's some psychological benefit to imagining yourself a winner. Yes, you may get rejected, and that will feel terrible, but I always found it worth it for the initial rush. And hey—you may win!
Beware, though, of fake contests, and this goes double for students. Some contests for kids are just designed for the organizers to make a profit. I always feel bad when students tell me they've won a contest and their poems are being published in some bogus book. I have to bite my tongue to keep from saying, "So, how much did that set you back?" If you have to pay to enter, chances are it's a scam.
Look on the left for legitimate ways for young authors to get published. Authors who are adults, check out the Top 10 FAQs About Children's Book Publishing from the Society of Children's Book Writers and Illustrators. Agent Query is also good for answering questions about agents and has an excellent database.
12. Join a professional writing community
This has been covered so well by other writers that I'm going not write my own version, but joining a professional writing community is immensely helpful. Click over to April Pulley Sayre's "Become a Children's Book Author" for the hows and whys.
Good luck to you! May there be Lake Champlain caramel chocolate bars and publication success in your future!