Jessica Leader grew up in New York City. Like Marina and Sachi, her characters in Nice and Mean, she had many important conversations in the stairwells of her school and on the cross-town bus. In addition to being a writer, she has taught English and drama in New York City, Louisville, Kentucky, and Washington, DC. Jessica graduated from Brown University and holds an MFA from the Vermont College of Fine Arts in Writing for Children and Young Adults. NICE AND MEAN is her first novel. It is all fiction, except for the part about wearing an apron to school.

For more information, including the tale of the apron, go to www.jessicaleader.com. Oh wait, you're already here. Well, if you still want more info, read the long and sweet bio on the right.

(scroll to keep reading)

The Early Years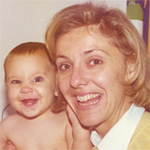 I was born in New York City, and as you can see from the baby picture, I had kind of a rebellious spirit. Most of the pictures show that I was a pretty cheerful kid, just the kind of person who'd grow up to love acting and swimming and gymnastics and dress-up. However, that little devil inside did sometimes need to get out, and it was only a matter of time before I found just the right way to do it.
Age 5: My First Book (well, sort of)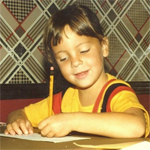 I never thought of myself as a writer when I was younger, but I did use writing to sort through my thoughts. When I was five, I got inspired by the Beverly Cleary book Ramona the Pest and wrote my own version, "Amanda the Pest." Yes, Amanda was my little sister. No, she was not happy to be the subject of my first book. My mother wasn't happy, either, and told my sister that the book was really called "Amanda the Good Girl." I tried to correct her but didn't get anywhere. So unfair!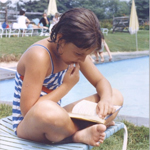 The Makings of a Whippersnapper
Although I now recognize there were a lot of great things about my school, at the time, many things seemed unfair, like the teacher who said I was being too competitive about the book-reading contest. (Hey! She started it!) I got in trouble for talking back pretty much every year, although I remain proud that the Whippersnappers' Club, my little band of trouble-makers, never got caught. In middle school, I vowed to start The Jess Leader School of Being Fair, where school would actually be fun, and where no one would call themselves popular or act like they were in charge. I was kind of joking and kind of serious.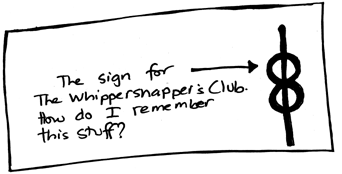 Age 14: A Writing Milestone
The summer before ninth grade, I went to acting camp, and though I realized I wasn't a very good actress, I wrote a play and got to see my work performed in front of an audience. The laughs! The applause! The modest fame! This was even better than whipper-snapping. I returned home determined to take my plays as far as I could.
Age 17: A Writing Boulder (this milestone was big!)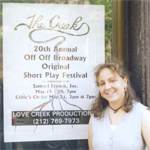 I worked hard on my plays and entered several contests for young playwrights, some of which I lost and two of which I won. For one of them, my play Land Slides was published by Baker's Plays of Boston, and they sold it to schools and theatres around the country. I was hugely excited, and for the first time, I felt like I might be able to make a career of writing. To this day, I still get notes in the mail telling me which theatres have performed my play, along with a little bit of money that I use to buy a cool pen or frozen custard. If you're curious, or want to produce it, click here.
Age 21: A Children's Book Writer is Born, With the Help of Some Tuna Fish that Never Was
When I went to Brown University, I majored in English and continued to be involved in theatre. One day, however, on the cross-town bus, I was seized with the urge to write a book for middle-schoolers, one where the main character ate a huge bowl of tuna fish on the bus just to gross out the other passengers. The book wasn't good enough to be published, but the character, Lainey, stuck with me and turned into one of Sachi's friends in Nice and Mean. There's nothing at all about tuna fish in Nice and Mean, which just goes to show how much a story can change in the process of writing it.
The Ms. Leader Classroom of Trying to Be Fair
Writing a story about a seventh-grader reminded me how much I liked kids and schools, and a few years after college, I began teaching middle-school English, social studies and drama. It was a lot of work, but hey, I got to talk about books and writing all day long! We even wore funny hats, and if you read the FAQ section of this website, you'll see why that made me so happy. I always tried to make my classroom a place where everyone could have fun and feel good, and I think that shows in my fiction, too. My stories all seem to show people figuring out just who they are and finding a place where they can be themselves.
Teaching and Writing, Nice and Mean
I became a teacher. I moved from New York to Louisville, Kentucky. I continued to write in my spare time but one day realized that I wanted to go all out, so I scaled back on teaching and pursued a Master's of Fine Arts in the Vermont College program in Writing for Children and Young Adults. It turned out to be one of the best decisions I ever made. Among other things, I learned how to make Nice and Mean good enough to publish. These days, I'm living in Washington, DC--teaching, working on the next book, and feeling grateful.
Still want to know more? Wowsers! Click here for answers to Frequently Asked Questions.