(scroll to see more!)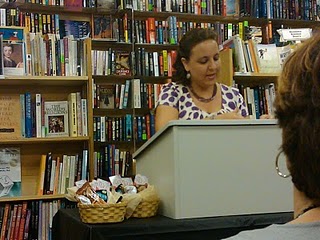 I am not actively scheduling appearances in order to work on Book 2 and attend to personal business. However, if you'd like to pull me out of my hermit cave, I'm sure I could be persuaded. Drop me a line: jess@jessicaleader.com

Past appearances (places where you may still be able to find signed copies!)

Cincinnati, OH: Joseph Beth Booksellers

New York, NY: Bank Street Bookstore, Books of Wonder

Wellesley, MA: Wellesley Booksmith

Providence, RI: Books on the Square

Louisville, KY: Hurstbourne Lane Borders, Carmichael's Bookstore

New Albany, IN: Destinations Booksellers



[scroll to bottom for complete info]
As a former classroom teacher, I love visiting schools and would welcome the chance to visit yours. I offer several types of presentations, all designed to fit into a 40-60 minute period.
One Writer's Journey: assembly, classroom, or library visit for grades 3 and up. I read from Nice and Mean, talk about my journey to becoming a writer, and answer questions.
Lessons from a Writer: Classroom lesson on topics including "Show, Don't Tell" and "Writing Description You Actually Like." Best for grades 5 and up.
Niceness and Meanness in Everyday Life. Group discussion of the characters' choices in Nice and Mean, with chances to role-play positive behavior. Great for counseling groups as well as classrooms.

$125 for one presentation, plus local travel and expenses
$425 for up to four presentations, plus local travel and expenses
For appearances outside of Louisville, if I am already in the area, I will calculate travel expenses based on proximity from my lodgings. If you wish to bring me to your area, please add travel and hotel fee to the prices above.
I offer a sliding scale based on need, so don't be afraid to ask! Also, if I have discussed a different fee with you, I will consider that binding


Author visits work best when the students are familiar with writers and their work. I encourage teachers and librarians to make copies of Nice and Mean available to students in advance of any school visit. I can also help you do this as a fund-raiser. For further inquiry, contact me