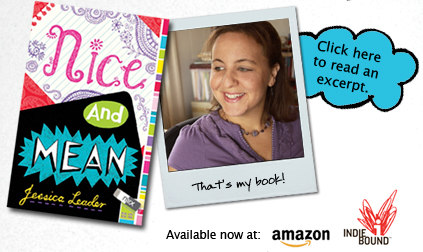 Nice and Mean was an Kids IndieNext List Selection!
"Well-written, insightful, and a lot of fun to read." -- Andy Terrell, Destinations Booksellers, IN

Marina is mean. Sachi is nice. Marina is Barney's. Sachi is Burlington Coat Factory. It's bad enough that they have to coexist in video class—but now they're being forced to work together on the big semester project. Marina's goal? Expose her wanna-be BFF as a fashion wanna-be to the entire middle school. Sachi's goal? Prove that she's not just another honor-roll Indian student and get people talking. Work together in harmony? Yeah, that would be no. How can Sachi film something meaningful, and Marina, something fabulous, if they're yoked to each other?
(scroll to keep reading)
"What's in and what's out? When is originality cool? Popularity and diversity are at the heart of the drama in this story of middle-school peer pressure...Middle-school readers, whether they're from the in-crowd or outsiders, will recognize the classroom-jungle warfare and the big issues behind what they decide to wear." -- Booklist
"Nice and Mean achieves that pitch-perfect tween voice. A delicious read."
-- Rita Williams-Garcia, author of One Crazy Summer
"A fresh, authentic tale of middle-school diversity; not just group diversity, but also the diversity within one person...Both [girls'] voices are unique and bursting with humor; they ring true and hook you fast. It's a breezy, entertaining read that happens to be about some serious stuff.
-- Phoebe Kitanidis, author of Whisper
"A great middle-grade read with authentic, diverse characters and a lot of heart. Details about fashion and creating videos add a little sparkle to the story. I'd hand this to girls who liked Peace, Love, and Baby Ducks by Lauren Myracle or Shug by Jenny Han."
-- Abby Johnson, New Albany Librarian


Jessica Leader has gotten the multiple worlds of the middle schooler down pat...Nice and Mean shows readers that most likely, the kids they think of as mean aren't all mean, and the kids who seem nice definitely have some back story of their own!"

-- Stacy Dillon, Little Red School House Librarian, at Tweendom

"...A story that will reach and even touch young readers. I would love to share [it] with any 'tween' girl struggling to make her own way."
-- The 1st Daughter, Book Blogger

"[An] amusing, light-hearted read, with more serious undertones."
-- The Book Scout, A Teen Reader

"A cute and fun read--and tween girls will love it!
-- Green Bean Teen Queen, Teen and Tween Librarian

"The tolerance taught in the book is more than just cultural, it is tolerance of anyone different from you, which, let's face it, to a middle school reader, that is everyone."
-- Tiffany's Bookshelf, a children's literature review blog

"I read this book in one sitting - it was fun, deep in some spots and funny in others - a perfect blend - just like our two main characters." --The Bookshipper, a literature review blog