Posted in
Writerliness
on 07/24/2012 10:41 am by jess
I'm going to be honest.  Yesterday, I said I was going to explore my characters, but answering questionnaires about my characters makes me a little queasy.  Even facing those questionnaires makes me queasy.
I didn't have to do them, I know. I chose a few characters from the nifty Scrivener column and jotted down things about them in the categories I've internalized and care about: biggest hope, biggest fear, and—that pretty much covers it.  I mean, What The Character Wants (and its twin, What the Character Doesn't Want to Happen) is mostly enough to drive the novel, right?  Couldn't I get away with answering just that?
Deep inside, I felt like No. It wasn't enough.  And that the more I forced myself to dig, the more fodder I'd have for action in this novel, which was my own motivation behind outlining the characters.  I mean, see deep t-shirt truism below.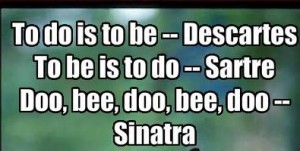 I gamely Googled, Getting to Know Your Character and looked at the results:
"What is in your character's refrigerator right now?"
Barf!  (Ha, not barf in her refrigerator. That would be quite a hilarious character, though.)  I mean 'barf' as in, is that really going to help me get to the heart of this person—knowing whether she drinks non-fat or 1%, whether her mouffetard is at fumes-level, as mine is, or whether she's topped off with the Grey Poupon?
Here was another helpful character question: "What kind of distinguishing facial features does your character have?"
She has a tongue sticking out at you, because you are being annoying again! (Not you, Reader; you the website writer.)  This strikes me as the kind of question a non-writer English teacher would ask her students to answer about their characters,  then wind up with an inbox full of short stories about wandering eyes, drooping lips, and moles.
I shouldn't be such a categorical Negative Nelly here.  As they say on Diff'rent Strokes, what might be right for you may not be right for some.  If these questions work for you, I'm happy for you, because you've got the process all laid out by this website: http://www.writingclasses.com/InformationPages/index.php/PageID/106
Knowing I had to embark on some kind of question-answering, I skimmed another and found this: "What does your character first notice when s/he walks into a room?"
For some reason, this didn't seem as irrelevant as the others.  It might well to some of you.  I answered that for one of my characters, and Lo, I realized a new dimension to his illegal activity.  For another character, it crystallized one of her fears.  Maybe that's what all questions do after you answer, "What is her hope? What is her fear?": they concretize the main driving forces.
For me, questions like, "What does your character have in her refrigerator?" just get to personality quirks that I'm good at making up as the story goes along when I know the important things about my character.  If I create too many quirks beforehand, I'm likely to try too hard to fit them in, leading to meandering sections of dialogue that exist for the purpose of establishing that one character puts ice cream back in the fridge with only scrapings left.  Possibly important, but not something I can know will be important this far ahead.
In addition, not all quirks reveal anything dynamic. For years, my desired superhero power has been to snap my fingers and move from on the couch, TV recently turned off, to upstairs, in bed, contacts out, teeth brushed, pjs on, ready to snoozle. I happen to think this is a fun superhero power (it's so mundane, but I'd use it all the time!), but it doesn't really say that much about me, except that I don't get much out of the face-washing ritual. If a character really loves the washing and flossing, okay, that might be a useful way to see her, and maybe I would stumble on that fact through a fridge-like questionnaire, but also maybe no.
There have got to be more usefully generative questions out there, right?   Which ones work for you all?  I'd love to poach.  With luck, I will find poached eggs in my refrigerator by the end of the day, and not barf.