Posted in
On my Desktop
,
Uncategorized
on 01/24/2010 08:45 pm by jess
Welcome to the second weeklyish On my Desktop , in which I photograph something on the desktop and do a little dance about it.  This week, I thought I'd do a little time-lapse photography of the narcissus I planted in my nifty bulb-planter.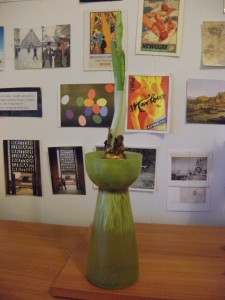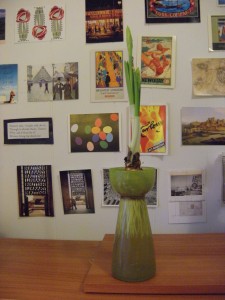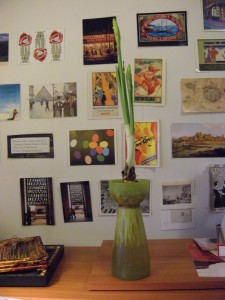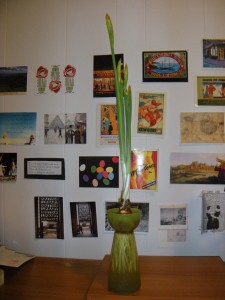 Cool how it grows every day, no?  I know.  I shouldn't be surprised (that would be narcissistic of me, right, if I expected plants to grow at a human rate?)  It's a fast-growing plant, and even plants that don't grow fast do change each day.  I guess it's just…okay, dovetailing into writing metaphor here: I face this bulb each day when I write, and though mostly I succeed in nudging up the page count by the end of the day, there's also a lot of re-outlining, rewriting, scrapping and reconceiving.  But it's undeniable that at the end of the week, I have gone somewhere with my story, and month after month, I get closer not just to the end, but to a story that's sound.  It may seem like it creeps as slowly as these roots toward the bottom of the glass ("are they moving at all?  Maybe it's my imagination.  They were this long yesterday…")–little changes happen each day.  Stay tuned for flowering!
(ps, can I also add what a freaking pain it was to upload those photos?  Unless I resize the pics, WordPress tells me I've gone over my jpg limit.  Any advices appreciated.  I will gladly pay you Tuesday for a hamburger today!)