Posted in
Appearances
,
On the Scene with Nice and Mean
on 08/30/2010 08:55 am by jess
On Saturday, I did one of my first authorly Events, the Big Brothers Big Sisters Friendship Celebration.  I have been a Big Sister for over 4 years now, and it's been a fantastic element in my life.  I love being able to help someone directly, without any interface, and of course I love my little sister, who has grown from 8 to almost 12 in the time that I've known her (and she's retained her sweetness—amazing!)  Naturally, I was thrilled to have a Nice and Mean Event for an organization I care so much about.
An Event is a somewhat different beast than a reading or school visit.  At an Event, you have a table representing Your Book and You, and you are the sole staff member (well, unless you are a bigger type than myself.)  You might sell books, and you might not.  Mostly, you are there to drum up enthusiasm for Your Book and You and to Meet People.   I have no problem with this. I like meeting people, especially kids and teachers, and this gives me a chance to interact.  But to do this, I have decided, I need a Gimmick, and my Gimmick is Nice and Mean Memories.  (Apparently my Gimmick for Talking About This is Capital Letters, but anyway.)
In addition to erecting my little area with books, bookmarks, and information on how to bring me into your school, I created a little clothesline to which people could affix their Nice or Mean Memories.  I had some left over from various bookstore appearances, but those are going to get retired, because I got so many great new ones from the Little Brothers and Sisters and their Bigs and parents, too!  I told them I'd put their words on the internet and make them famous by Monday night, so here I am, making good on my promise.
I'm starting with the mean memories so you can end on a sweet note:
Mean Memories
When my mama had got lock up my godmother cut my hair when I was 13.
5th Grade—I was proud of my new gauchos…until I saw the "popular" girls giggling about them.
My mom had a dozen roses stolen from her.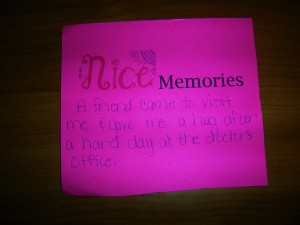 Nice Memories
I the best student and the nicest.  My name is Demetrius.
My favorite nice memory is when my 10-year-old brother wrote me a letter for my 18th birthday telling me how much I mean to him!  I love you, little brother!
A friend came to visit me & gave me a hug after a hard day at the doctor's office.
When my mom tooke me and my mom's friend and daughter to Six Flags!!
Me and all my family went to the zoo.
My best friend, John Mark, getting the ENTIRE cafeteria to sing HAPPY BIRTHDAY to me on my 16th birthday!
All the time that me and my big sis cook together.
Joe is my friend at church and he is nice to me.
I did chors to help mi mom.  (Editor's note: I feel compelled to remark that that was written by a 5-year-old on his own!)
———————————————————————————————–
I was surprised that so many more people wrote Nice memories than Mean ones.  I personally might have liked to vent (maybe this is why I am a writer?), but I guess they wanted to think about something happy on a Saturday morning—and who can blame them?
Mostly, though, I just felt good reading and re-typing these.  It's such a good reminder, too, that even something as simple as taking your family to the zoo can count as a nice memory.  It's possibly indulgent and self-referential to be inspired by things inspired by your book, but I did feel inspired, and honored, at the memories people shared.
If you have any Nice or Mean memories to share, feel free to add.