Posted in
Bookstore visits
,
Give-aways!
,
Promotion of Self and Others
,
School Visits
on 08/15/2010 12:30 pm by jess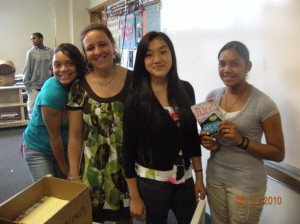 First of all, I am pleased to announce that I will be appearing at two more bookstores in the area this fall!
Saturday, August 21, 2pm
Desinations Booksellers
604 East Spring Street * New Albany, Indiana
Saturday, September 11, 4pm
Carmichael's Bookstore
2720 Frankfort Avenue * Louisville, KY
I must be straightforward and report that there will not be cake.  (I know! And you were told there'd be cake!)  However, there will be something pretty much as good: a chance to win a free classroom visit from an author!  (Well, this is good if you are a parent, teacher or librarian.  If you are a childless plumber not taking any extension classes anywhere, I imagine that this offer doesn't appeal as much as cake.  But moving on…)
It's pretty simple: come to a Nice and Mean event (I will read and dazzle you with my super-secret strategy for spritely Q&A), and if you are a parent, teacher or librarian, you can enter a drawing to win a classroom visit from me. I'll talk about the process of becoming a writer, discuss the skills that are crucial to being an artist (revision and attention to detail–sound familiar, teachers?), and answer questions.  (I can also read from the book, but often, the Q&A takes a while.)
What if you're thinking, Oh woe, I do not live near enough to attend, so I cannot enter the drawing! or I am occupied both of those days!  Fear not.  Next month or so, I will hold a drawing online for those interested in a Skype visit.
Go, go, Nice and Mean!  See ya real soon!