Posted in
The Book of the Dead
,
Uncategorized
on 01/29/2010 12:58 pm by jess
Research is not, as I said the other day, funny.  Research is dangerous.
First of all, I have this habit of putting food in my novels that is way too delicious.  In two separate stories–one, Nice and Mean; the other, one called Not That Girl that may someday be unleashed to the world–I prominently featured doughnuts.  Every time M and E would make up, or J, M, Z and B would gather at the shopping center, I would have to stand by and watch while they stuffed their mouths with chocolately, cakey goodness and try not to care that I didn't–and shouldn't–have any in my house.  It was particularly rough when M wiped the extra glaze off the wax paper and then ate it.  That's what I would do!
Then there was–and is; in contrast to the doughnut scene, this part made it into Nice and Mean–the matter of ravioli.  There's an important scene in which Marina and Sachi eat ravioli.  I love ravioli!  Marina accidentally pours too much parmesan onto hers (I seriously hope this does not count as a spoiler), but I would eat it like that anyway.  I think they're eating peas at the same time…I love peas with my ravioli!  Every time I'd revise that scene, I'd be tempted with the prospect of a ravioli lunch, and let me tell you, there is a lot more fat in ravioli, even cheese ravioli, than you realize. 
But now I think I've taken the cake for myself–or even, ha ha, the Cakesters.  In my camping story, workingly titled The Book of the Dead, some genius sent my characters Oreo Cakesters.  It's important how many come in a pack, so just now (before lunch, I might add), I went online to find out and ended up having to look at this website:
http://www.nabiscoworld.com/oreo/cakesters/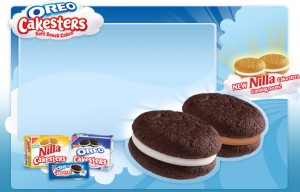 Why can't they just have the info without pictures?  It's so mean and tempting.  Now I want Cakesters, and I should not be having Cakesters!  (I don't mean to make this blog another lament along the lines of Women and Food Denial, but I very much doubt that most peoples' healthy eating plans include regular consumption of Cakesters, especially in the middle of the afternoon.) 
So I may be on the verge of deciding that I should forgo research–or at least, internet research on food.  I am just going to make up all my facts from now on.  Even if I need to learn how long it takes yeast for yeast to rise–too bad!  I don't want to be tempted with images of fresh-baked bread.  They may be making their own veggie burgers from a mix, but I will just have to imagine the finished product, thank you very much (okay, maybe some people would balk at the idea of mix-made veggie burgers, but at this moment, when no peas or ravioli have crossed my path recently, I am finding it quite tempting.)  If my subconscious is going to keep throwing tempting items into my stories, the least I can do is resist further temptation.  And if I put errors in my story in the process, who cares?  Wouldn't you rather have me wrong than expiring of a heart attack before completing this novel?  I would.  Thank you. 
ps I am sorry if I tempted you with the pretty pictures here.  I had to get them out of my system.  Of course, now they are in my system.  Hm. 
pps It has been pointed out to me that I have not really made good on my tagline.  Consider this a love song to cake…a song of the broken-hearted.