Posted in
Bookstore visits
,
Nice and Mean
,
Youth
on 08/24/2010 09:30 am by jess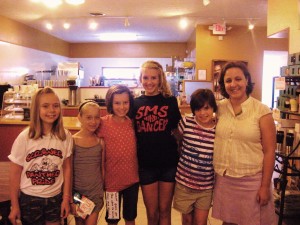 Saturday's Reading at Destinations Booksellers in New Albany, IN!
I'm so grateful to Andy and Randy at Destinations Booksellers and to everyone who came indoors during a completely glorious summer afternoon to hear me read and answer questions about Nice and Mean.  Thanks especially to the cool mom who brought these fun kids!  (She's taking the picture.)  They also won an author visit from me on behalf of their middle school, and I can't wait to set it up, in part because I need to do a better job at answering one girl's question.
The Q&A about the book veered toward the subject of meanness, and one of the girls, not pictured here, asked, "If you had a daughter this age, what would you tell her if people were being mean, the way they were in this book?"
"Ooh," I said, "that's a really good question." (Apparently this is what I automatically say when I don't have an answer ready, which is one sign of a good question.)  "It's such a good question that I'm not even sure I can answer it well right now, but I'll try."
I said something to the effect that there will probably always be mean people and they're not likely to change a ton, but if you are a nice person, people will notice.  Classmates and teachers will notice your including someone who isn't well-liked, or going out of your way to support a friend, or having the character to engage people in interesting conversations.  And it may not pay off right now, in elementary or middle school, but as you get older, people will seek you out for friendships and positions of responsibility, and you will be a happier person than the person whose main means of pulling themselves up is putting others down.
"How's that?" I asked the girl.  "On a scale of tiny to huge, how helpful?"
She gave what I can best describe as a look of kindness, although that's not quite it.  "It's okay for now," she said.
Well, phew.  But I went home and thought about it some more, and I came up with a longer answer–so long, I created a new post.  But thank you, brave middle-school student, for asking me that question, and thanks to everyone else at Destinations Booksellers who created an environment where she felt comfortable asking.  I admire you all.
Coming soon: an 8-step plan for dealing with meanness in school.
Tags:
Meanness