Posted in
Appearances
,
Nice and Mean
on 08/26/2010 09:44 am by jess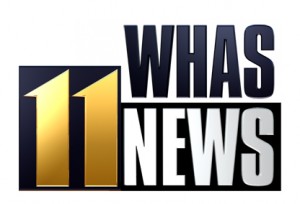 Thanks to WHAS 11 News for inviting me to be on the news at noon–it was so fun!
Edited to add: you can watch it here!
I hope everybody gets a chance to be interviewed in a news studio sometime, because it's an uncanny experience.  The top 10 things I was surprisedly delighted by, in order of appearance:
1. The ceilings in the building are so high! Maybe 16 feet?  I tried to guesstimate, and maybe someone can set me straight, but walking in, I felt like a member of the Willy Wonka party peering around the door to the chocolate factory. (Tragically, no Gene Wilder singing "Pure Imagination," but there were other pleasures to follow.)  It makes sense; they need to hang many lights at different angles, but I had never thought about that element before.
2. If it's local news, at least, there will be no one fluffing your face with a blush-brush or dabbing on the pancake make-up. That was okay by me; I used the once-weekly make-up beforehand.  I had just been looking forward to that, along with some tissues tucked in the collar, but maybe I'm confusing that with, I don't know, having an important role.
3. There may not be a green room, but you get to sit on the sidelines and  watch until it's your turn. This was probably the best part.  Claudia, the news anchor, read the news just like they do on TV.  (Shocking, I know!)  But in between takes, she'd make funny comments.  When she finished introducing an Oprah episode about call-girls, she fanned her face said, "I'm so glad you showed the clip for that one–I didn't want you to see my face!  My mother's at home going, 'Clow-dia!  Ach du lieber!'  I giggled, thinking of this incredibly polished woman and her strict German mother.
Claudia also made me laugh over the Tiger Woods divorce story.  When she finished it, she worried, "Did I pronounce his wife's name E-lin, or Ellen?  No, I know I said E-lin.  Ellin has very long hair;  Ellen has very short hair."  It took me a minute to get the pun (Ellen de Generes; vowel sounds), but then I had to hide my laughter, too.  I thought only reading teachers thought about long and short vowels, but apparently not!
4. You may meet other people in the studio with much cooler stories than your own.
I shared the warming-bench with the second-place winner of both the pie-baking contest AND the chocolate-treat baking contest at this year's state fair.  It was a serious effort not to leap up and swipe a piece of the cake while no one was looking.
5. News comes in even during the broadcast, and the anchors have to adjust the stories and keep their composure.
During commercials and clips from the network, Claudia would check her Blackberry, and at first, I thought, 'Oh, she's probably texting her family." Turned out she was getting new stories, including one about a shooting in town.  It seemed like they shortened other pieces to get that in, with little lead-time to do so, and they couldn't react emotionally at all, or if so, only in a measured way.
6. It's almost lonely in that studio.
It's so big, and it was just Claudia, the weather and traffic reporter (Grant? Gene?  Sorry!) and the tech guy.  I always think writing is a lonely profession, but I wonder if it doesn't feel even weirder to cheerfully report the news and bare your personality with no response!
7. The microphone goes up through your shirt!

Second base on the first date with a microphone, on local TV!  What would Claudia's mother say?  And the worst part was that my shirt and the mike were black, so to make sure the mike wasn't making my shirt look weird, I had to ask Claudia to help me adjust.  She was very nice about it, though.
8. The chairs have no backs, and you can't see how you look beforehand!
I am much better at sitting up straight when there's something to rest on, and I didn't get to check my appearance until I was on TV, only to see that I was projecting an unflattering side view and didn't know how to work around it!  I mean, I know the point is the book and not me, but I wish I'd had more winning cards here, other than what mom and dad gave me…
9. Unless you're a criminal, they are nice enough to let you know what they'll be asking you first.

I wouldn't say I got the questions in advance or anything, but in the minute or so between when I sat down and when we went ON AIR, Claudia said we didn't have a lot of time and asked me what I wanted covered.   I told her and she more or less stuck to that with a few other things thrown in.  Quel relief!
I got to talk about what I think the book teaches, where I get my inspiration, and how I'm grateful to be on the IndieNext list.  That was all we had time for, but it was fun while it lasted!
10. If you get to be on TV, for goodness' sake, ask when it will be aired and record it!!
I just assumed it was going to be for a later broadcast and that I'd get home in time to record it, but apparently it was somewhat live–gah!  I guess I'll pay the $$ to buy it, but I still feel like a doog.  (That was meant to say 'doof,' but 'doog' encapsulates it so much better.)
Ah, well–next time, I'll check my side appearance and do my recon!  That is, if there is a next time.  I hope so; I really enjoyed myself.  Maybe Claudia wants me to come on to imitate my mother.  I can do a really good one of her talking about her pockabook, which is Rhode Island-ese for "purse."  Or I can talk about long and short vowel sounds.  Or maybe I'll write another book…
If you have any tips for future appearances, feel free to chime in!