Posted in
Give-aways!
,
Nice and Mean
,
Promotion of Self and Others
on 03/08/2010 10:17 am by jess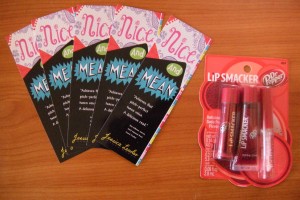 Today marks 3 months until the release date of Nice and Mean, and I'm going to celebrate by giving things away!  Booky bookmarks, Dr. Pepper lipgloss in three varieties, and some Indian bangle bracelets can all be yours to help celebrate the world of Niciemeanieness in anticipation of the big release.
Mavie, the delightful blogger at The Bookologist, is kind enough to host the giveaway, and she has all the details on her site of how you enter and earn points. (She's on West Coast time, so if you go there and it's not up, just check back later.)  I'll be here all week to get you pumped about Nice and Mean and about being the first kid on the block with the swag. 
Why should you want to read Nice and Mean when it comes out in three months on June 8th?  (Or even pre-order it now?)
-We've all read about the mean girls, but what's going on in the heads of the nice girls–the ones who smooth everything over for everyone?  Nice and Mean gives the scoop.
-Haven't you ever wondered, maybe with annoyance, what makes people popular, especially when they're, you know, MEAN?  Nice and Mean investigates. 
-Haven't you ever wondered why everyone is suddenly wearing…. (Fill in the blank.  I'd wonder why people are wearing gladiator sandals, but I wouldn't want to offend you, so never mind.)
-Don't you think Dr. Pepper is the drink of choice?  Me, too.  You will get to think about it a lot when you read this book.
So, what are you waiting for?  Don't let someone else get this fabulous Nice and Mean prize pack.  Comment, Tweet, and get other followers on board to win today.  If you comment, I will contribute money to my local library, as seen below.  And hey!  Thanks for coming!  It really means a lot to me.
Note: this contest is open to people of all ages, but you must live in the US, and will last until Friday, March 12, 2010, C.E.