Posted in
Writerliness
on 03/02/2010 09:22 pm by jess
Several very cool things happened this weekend.
First, fellow Louisville author, fellow Tenner, nifty gal Julie Kagawa released her young-adult novel THE IRON KING, which has been getting great buzz all over the internets.  (It's on my TBR pile.)  Congrats, Julie!
(That's Julie looking writerly next to her trademark Mountain Dew.)
Second, I went to the party with Kelly Creagh, fellow Louisville author, fellow Tenner, author of NEVERMORE, coming out in September.  (Are you seeing a theme?  It's cool to be a debut YA author from Louisville!)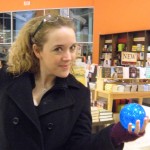 Here's Kelly looking glamorous with these amazing bouncy-balls from Borders, which not only contain sparkly glitter–they light up if you bounce them the right way!  (Well.  They lit up when Kelly bounced them the right way.  As for me…I pretty much just admired hers.)  (And apologies for all the white space.  I seem to have issues arranging photos tonight.)
The third great thing was that three completely awesome book-bloggers were there, two of whom I'd been corresponding with about hosting my blog tour in June–The Story Siren (aka Kristi), The Page Flipper (aka Chelsea) and Wastepaper Prose (aka Susan, who took pictures cuter than mine and you can see them on her blog.  I'm showing you these so you can get the alternate perspective.  Top row Susan, Julie, me, Kelly; Bottom row, Chelsea, Kristi, ladder.)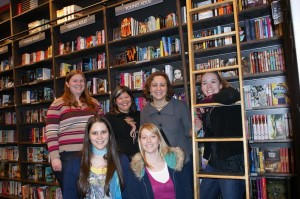 It was great to celebrate with Julie and hang out with Kelly, whom I briefly shared a writer's group with two years ago and who I'd always remembered for her kick-ass writing.  She has a YA set in Santa Land (hope that's okay to reveal!) that is so original and hilarious and will take the world by storm one day.  I must say that while I occasionally dislike writing that everybody else enjoys, a surprisingly large percentage of the writing I think is great goes on to some kind of fame.  So if I think you're great–you will be!  (Yes!  It works just like that!)
The final amazing thing, though, was the dedication of the bloggers.  Between them, I think they drove 6 or 7 hours to attend the signing!  Blook boggers (ha, I mean book bloggers) are inspiring in their dedication.  They read and write reviews of more books in a week than I might in a month.  They're more on top of what's being released than most writers I know, and they're so generous about using their powers to help promote authors, no matter how new and humble we may be. I felt lucky to be able to spot these rare creatures in the wild, to chat with them a little, and to revel in the booky goodness of it all.  In fact, I'm adding a new tag just for you: Book Blogger Lovin'.  May it get used frequently!